Chain & Wire Rope Hoists - Built For Performance
Over the years, we have developed many long-standing relationships with the leaders in the hoist industry.
The two most common types of hoist used are wire rope and chain. Chain units are available in manual, pneumatic and electric variants where wire rope hoists are only available as pneumatic or electric. Generally, chain hoists are lighter duty and more limited to special features than wire rope hoists, due to frame size limitations.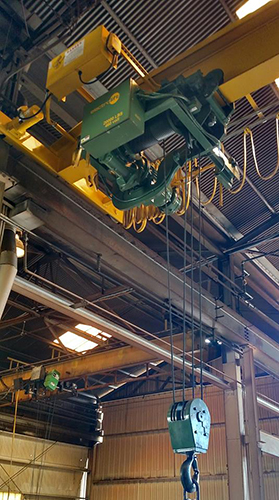 Based on the details of the application and environment, both have certain advantages. Major factors to consider when you are selecting a hoist for your facility are:
Average operating time per day

Load spectrum

Number of starts per hour

Operating period

Equipment life
Electric Chain Hoists
Electric chain hoists are an excellent tool for a variety of the applications in today's market. They are very beneficial for production and in low capacities (5 tons and smaller) come at a great value. Higher capacities are not as ideal because of the size of most units and the reduced lift speed. At greater than 5 tons, wire rope hoists are normally the better cost alternative. Chain hoists are still available though from a number of manufacturers.
Wire Rope Hoists
Wire rope hoists also come in a variety of configurations and capacities. From 1 ton, in excess of 100 tons, the units can be tailored to your facility.
These hoists are used daily in production environments around the world. Engineers at Williamson & Wilmer can utilize their resources to find what has worked in similar situations before and what we can improve on for future designs. Like electric chain hoists, wire rope hoists will have features that are specific to their design and could make a huge difference to your operation.
We have furnished customized hoists for many special applications over the years. Some of these include:
Explosion Proof

Hot Metal

Food Grade

Clean Room

Corrosive Environments
Monday - Friday: 8:30 - 5:00
Saturday: Closed
Sunday: Closed