Williamson & Wilmer is a provider of overhead materials handling equipment that has been in the industry since 1928. We offer a variety of high-quality products and installation services to provide the exact equipment you require for your specific needs.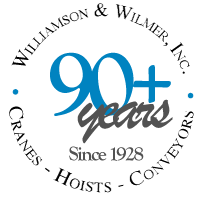 Our team of experienced professionals can work directly with you and your staff to determine the optimal equipment configuration for your individual application.
With over 90 years in the materials handling industry, Williamson & Wilmer has the required expertise and knowledge to accurately and correctly diagnose the parts your system may require as well as the knowhow to install or provide further installation details for your equipment.